Everyone Is Watching Video Online
The question I often get asked about video marketing is why is video important?  The answer is simple…because everyone is watching video online.  Okay…not everyone.  But by 2017, eMarketer reports that 69 percent of all consumer internet traffic will be viewing video…and the screen size doesn't matter.  In 2015 the average user spent 5 1/2 hours each day watching video content.  The challenge for most companies is to determine what form of video marketing will be most effective to market their product or service.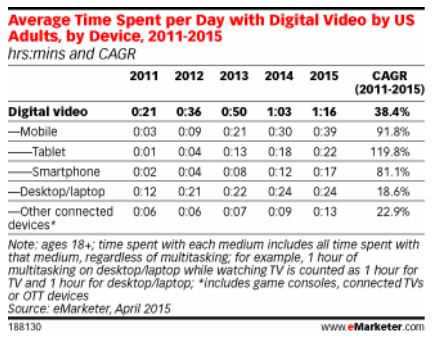 Video Marketing Works
More and more companies are using video marketing to promote their products.  Why?  Because it works.  Last year, statistics show that video marketing effectiveness increased for 87 percent of companies.
Higher Engagement
Visual content is the key to increasing engagement; that being imagery or video.  However, users are 10 times more likely to engage, embed, share and comment on video content posted to social networks.
Consumers are interested in branded video
Some people think that the consumer won't watch video content if it is branded.  However, 84 percent of social media consumers have liked or shared a branded video in their news feed.  Additionally, over 50 percent of consumers have watched a video embedded in an email blast.
B2B Video Flourishes
Seventy-three percent of B2B marketers surveyed said their video marketing is generating positive results, according to a study from ReelSEO.  The challenge for most companies is to understand the ROI video can offer since there can sometimes be sticker shock related to the new endevor.  Video doesn't have to be expensive, but it can come with more cost than sometimes expected.  However, the results are always measurable.
Perspective is Important
It always drove me nuts to see video shot vertically rather than horizontally.  "Turn your phone horizontally" was my mantra.  However, according to AdWeek, Snapchat reported that users are nine times more likely to watch a vertical ad all the way to the end versus a horizontal ad.  I suspect this is the psychological effect of the mind believing the vertical perspective is not staged or produced; although I could argue that point 100 times over.  In addition, Snapchat is a platform overrun by Millennial's who have grown up with a smart phone in their hand and shoot everything with a vertical perspective.  I suspect that you will see much different results based on demographic viewership however I also suspect this vertical consumption trend will only increase.
Increase Email Click Through Rate (CTR)
Your email blasts contain important information that you want your connections to consume…but are they?  Unfortunately people don't read every word we write…did you read this entire blog?  Heck no.  Studies show that the use of video can increase click through rates by 100%.
Eight Billion Daily Views
Social Media is overwhelmed with video viewership.  Facebook alone boasts over eight billion daily video views by over 500 million users.  Furthermore, Twitter, Snapchat and Instagram have all increased their video capabilities to attract more users.
The Summary
The consumption of video is increasing every day so the question remains, is video right for your company?  The right video telling the right story targeted at the correct consumer is highly effective at increasing engagement and ROI.  Do you want to know how we do it?  Contact us here and we will share our secrets.